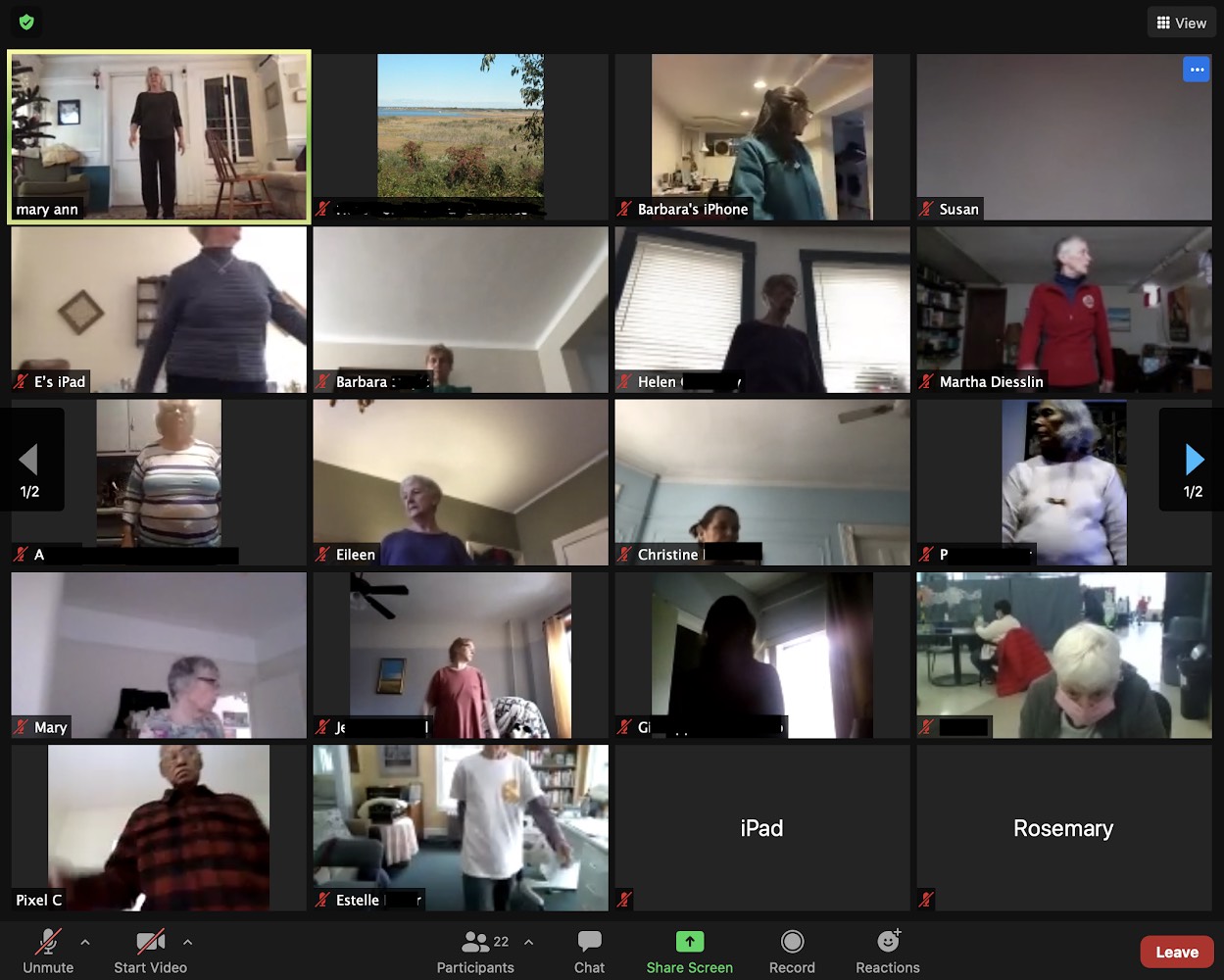 Seniors from Bay Ridge and beyond take part in a Standing Balance Zoom class taught by Mary Ann Coughlin, a physical therapist and exercise instructor. The class, offered through the Bay Ridge Connects senior center, meets every Monday morning on Zoom. (David Dring)
Fighting loneliness, one Zoom class at a time
Online communities blossom for seniors
By Harry Parker
Geoffrey Cohen, a Bay Ridge retiree, has always been a homebody. He never married and usually limited his pre-pandemic social activity to the occasional Broadway show.
When Bay Ridge Connects—an extension of a local senior center that specializes in providing technology lessons among other practical resources—opened, he was eager to develop friendships and joined as soon as the program launched.
"I figured I'd probably, you know, meet people over Zoom," Cohen, 65, said.
Cohen expanded his social circles through Yahtzee game classes and a Broadway listening group. Tech courses proved successful on multiple levels: A new friend even dropped off sweets for him on Thanksgiving. He remains engaged in multiple courses.
Bay Ridge Connects offers courses to any senior who can access Zoom from home. Despite a focus on local residents, up to 15% of the online participants are from outside the neighborhood.
A recent study in the Journal of Global Health Research and Policy identified social isolation among seniors during the pandemic as a public health crisis. It found that participation in virtual classes is vital for mental health and found that social isolation can result in a 50% increase in risk for dementia.
"The outbreak of COVID-19 will have a long-term and profound impact on older adults' health and well-being," said Bei Wu, the study's author.
The Bay Ridge center is prime example of how technology can combat isolation.
Rosemary Shabouk, 68, has lived in the neighborhood for 43 years. Before the pandemic, she was part of a church group and participated in a knitting club at Bay Ridge Connects.
I walked in, asked if they had a book club.They said no. They asked me if I wanted to lead one. I said I would be thrilled.
She and her husband, Joseph, would often visit their children in Massachusetts and Virginia on weekends. But their social lives came to a screeching halt with the shutdown.
Suddenly, the Shabouks could no longer travel and the church temporarily closed until July. So Rosemary got her fellow knitters together online and now runs a virtual crafting group through the center.
David Dring, a technology trainer at Bay Ridge Connects, said this kind of initiative by seniors has become common. The center "is almost entirely driven by the older adults themselves. The staff is really there to facilitate trying to get those things to happen."
Gail Karpf, a retired English teacher, brought one of the center's clubs online too. She never thought she'd be involved in a senior center until she found Bay Ridge Connects last January.
"I walked in, asked if they had a book club.They said no," Karpf said. "They asked me if I wanted to lead one. I said I would be thrilled."
The center's staff and seniors expect the virtual hangouts to stick around post-pandemic. Cohen certainly plans to continue hanging out with his new friends via Zoom even after New York eventually returns to normalcy.